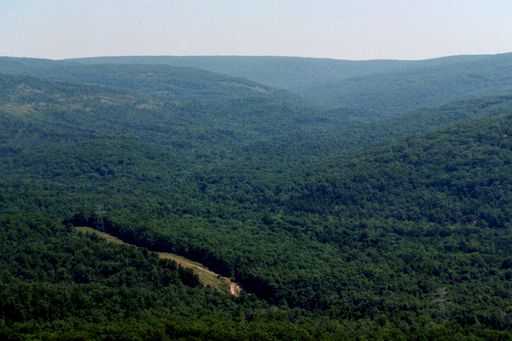 The text below is copied from
SummitPost
. Any usefulness is courtesy of the SummitPost community. Any inaccuracies are the result of my edits.
Taum Sauk Mountain is the high point of the St. Francis Mountains, Iron County and the State of Missouri. All it lacks is being the most prominent point in Missouri. This honor falls on the much shorter Mudlick Mountain to the south.
Taum Sauk Mountain is a walk-up summit that is ADA accessible. It is the 41st highest State high point and is located in Taum Sauk Mountain State Park. The park is also home to the highest water fall in Missouri, Mina Sauk Falls, which drops a total of 132 feet in three distinct drops. It is best visited in the wet spring months or after a rain for best flows. The fall colors in Taum Sauk Mountain State Park are some of the best anywhere with yellows, reds, and the ever green pines.
Getting There
Head south on State Route 21 from Arcadia, Missouri for about 4 and a half miles. Turn right onto Highway CC which is signed for Taum Sauk Mountain State Park. Along Highway CC you will see an Adopt-A-Highway sign listing the highpointers club and it's founder Jack Longacre who apparently lived in this area. After a few miles the pavement will end near a fork in the road. To the left is a lookout tower with wonderful views, to the right is Taum Sauk Mountain State Park. Once in the park there will be a viewing platform on the right side of the road that includes a panoramic photo labeling the peaks and valleys before you. At the end of the road is parking for many vehicles. I've seen as many as five different state plates - apparently highpointers - at one time.
Recommended Route
The trailhead sign lists the Mina Sauk Falls as a three mile loop. I highly recommend this loop, particularly in the spring or fall. Mina Sauk Falls is the highest water fall in Missouri with a total drop of 132 feet over three distinct drops.
Red Tape
There are no fees or permits required unless you want to camp in the park campground.
Camping
Camping is allowed in Taum Sauk Mountain State Park for a fee at the park campground and is allowed in Mark Twain National Forest - below and beyond Mina Sauk Falls - for free.